Cut resistant gloves and sleeves are designed to protect hands from direct contact with sharp objects such as glass and metal. The level of cut resistance provided is a combination of material composition and weight. Performance of a glove can also be affected by coatings applied to the surface which can also offer enhanced grip.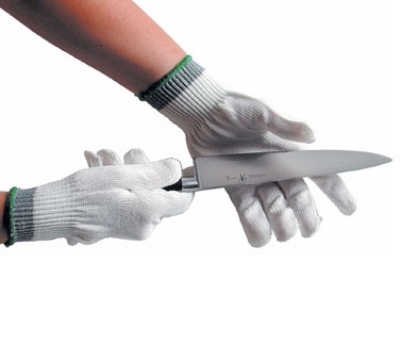 Common cut resistant fibers include:
HPPE: High performance polyethylene fibers offer maximum strength with minimum weight. HPPE is 10 times stronger than steel by weight as well as 40% stronger than aramid fibers offering a softer, cooler alternative.
Aramid: The most common brand name is Kevlar®. It is 5 times stronger than steel and provides great tensile strength. Due to its inherently flame resistant nature it will not melt and offers heat protection up to 320° F based on product design.
Spectra: A polyethylene fiber that is 10 times tougher than steel per unit weight offering high cut resistance even when wet. Its low lint and flexible nature make it ideal for use in food processing.
Taeki5®: A blended yarn made of Taeki5® , fiberglass and synthetic fibers that delivers high cut resistance without sacrificing dexterity and tactile sensitivity.
Blended Shells: The introduction of steel and glass to HPPE and aramid help to significantly increase levels of cut protection while helping maintain comfort and fit.
Source: www.westchesterprotects.com